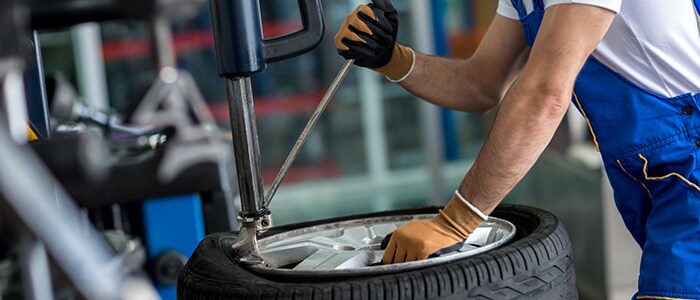 Tire care may not be the first thing that comes to mind when you think about car maintenance, but it's essential to maximize the performance and lifespan of your car. By regularly scheduling tire care and rotation, you prioritize the safety of yourself and others. You also save yourself money in the long run by getting more use out of your tires.
Pressure and tread level are two important things to keep in mind if you want to take proper care of your tires. You can monitor these yourself, but our staff at Asheboro CDJR will be happy to take a look at your tires at any of your regular service appointments.
Expert Tire Service in Asheboro, North Carolina
When should tires be rotated?
This number varies from car to car. On average you should try to have your tires rotated every 5,000 to 8,000 miles. An easy way to make sure you do this is to have them checked when you take your car in for an oil change.
When do tires need to be replaced?
When your tires are too worn to be considered fully functional, it's time for a new set. This usually happens about every 5 years, and you may need to replace them more often if you regularly drive in winter weather conditions. Check the tread level indicator regularly to see how worn down it is.
How do tires influence gas mileage?
If your tire pressure is too high or too low, it can negatively impact your fuel efficiency. Monitor your tire pressure continuously to make sure it stays at the manufacturer's recommended level, and save yourself gas money in the long run.
Why is my tire maintenance warning light on?
Your light could be on due to an abrupt change in weather, because you have exceeded its mileage setting between tire rotations, or because your tires are over or underinflated. If you can't figure out the cause yourself, bring it into Asheboro CDJR so our technicians can take a look.
What wears out car tires?
Your tires wear down over time for a number of reasons, but if you notice they're wearing out faster than they should, the following may be to blame:
Underinflated tires
Overinflated tires
Tire alignment is off
If you have any questions about whether it's time to schedule a tire service, call or pay us a visit in Asheboro, North Carolina. Our expert maintenance team is trained to provide professional tire service for all Chrysler, Dodge, Jeep, and Ram vehicles.
We look forward to visits from customers in our hometown, as well as nearby High Point, Greensboro, and Winston Salem.